Quick Links
---
What is ABACUS?
ABACUS is an online, peer-to-peer marketplace where you can sell your skills as maker, rent your equipment &/or workspace, and offer contract services to those looking to have something made.
ABACUS also functions as a facilitator of discovery by connecting creative folks or those with little to no experience in a particular skill/hobby with local makers who can provide the means of their creative endeavor.
Even established makers have started using ABACUS to learn new skills or hone existing ones.
What can ABACUS do?
You can use the ABACUS marketplace as a platform to:
Sort and connect people and their interests.
Share your skills as a maker while making money.
Find real makers near you.
Learn a skills or hobby from someone who knows.
Create a product or finish a project with the help of a maker.
Learn about equipment, such as a 3D printer, laser, etc., that you've always been interested in. You can always requests demos.
Free machinery and personal preotection equipment information.
Earn perks the more you share and the more you make.
Who uses ABACUS?
Anyone. It's free and easy to use. From professional makers to part-time hobbyists, people are using ABACUS to make money by selling their creative know-how and renting equipment they aren't using.
How do I maker money with ABACUS?
It's easy! After creating a free account and setting up your maker profile you'll post a listing to the marketplace of any skill, hobby, demo, equipment for rent, or contract service you're offering. v
When someone searches the marketplace for local makers or specific skills near them, they'll see relevant listings. You'll make money every time you complete a booked listing.
Where can I use ABACUS?
If you're a maker, you can offer sessions at your home workshop, local makerspace, work studio, or a coffee shop depending on what skill you're offering. We've partnered with local makerspaces to make it easier for anyone to learn a new skill or hobby.
For Makers
Who is considered a maker? A maker is anyone who creates, teaches, or has creative means they wish to offer on ABACUS. All skills levels are considered makers. We feature professionals to novice level makers on ABACUS.
We're geared (pun intended) towards linking makers of all types, from novice to some experience to seasoned, with like-minded individuals who are seeking to learn more about a particular trade/skill/hobby or test out some equipment they're thinking of purchasing in a real workshop environment from someone with practical experience and know-how.
So, if you have some creative know-how or some cool equipment to share/rent, then you can use ABACUS to make money. Get Started »
As a maker you'll be able to:
Earn money.
Manage your listings and rentals easily.
Set your own schedule.
Easy message and chat system.
Earn perks to more you share and make.
Build your maker portfolio with our feedback and review system.
Finding a maker
Want to learn a new skill or hobby? How about testing out that cool new Glowforge laser? It could be a good move for your business or crafting, but it will cost some serious $$$.
Let ABACUS help you. We're all about connecting the right people. If you want to learn about a new craft, try out some equipment you've had your eye on, or maybe you live in Seattle and can't fit a laser or 3D printer in your 700 squarefoot apartment (been there, pal); we've got you.
Join the ABACUS marketplace to find makers near you who can help with your creative ideas. Get Started »
By using ABACUS, you'll be able to:
Find a maker that fits your budget.
Access to our secure payment system that holds funds until sessions are marked completed.
Manage your sessions with our easy scheduler.
Easy message and chat system.
Build your maker portfolio with our feedback and review system.
Why should I use ABACUS?
We make learning a new skill or hobby easier by adding creative means to creative minds. We've designed the ABACUS marketplace to take care of the non-making details so you can enjoy the fun part.
You'll also be able to browse makers in your neighborhood, but you'll also be able to read what others are saying about their maker experience by way of our review system. After each completed session, both makers and their customers are encouraged to review each other. As ABACUS is a peer-to-peer marketplace, this helps others know that each individual is safe and reliable.
All accounts are free and all perks come standard when you join.
Scheduling manager
Secure payment system
Messenger
Profile
Unlimited listings
Review system
Email support
View an example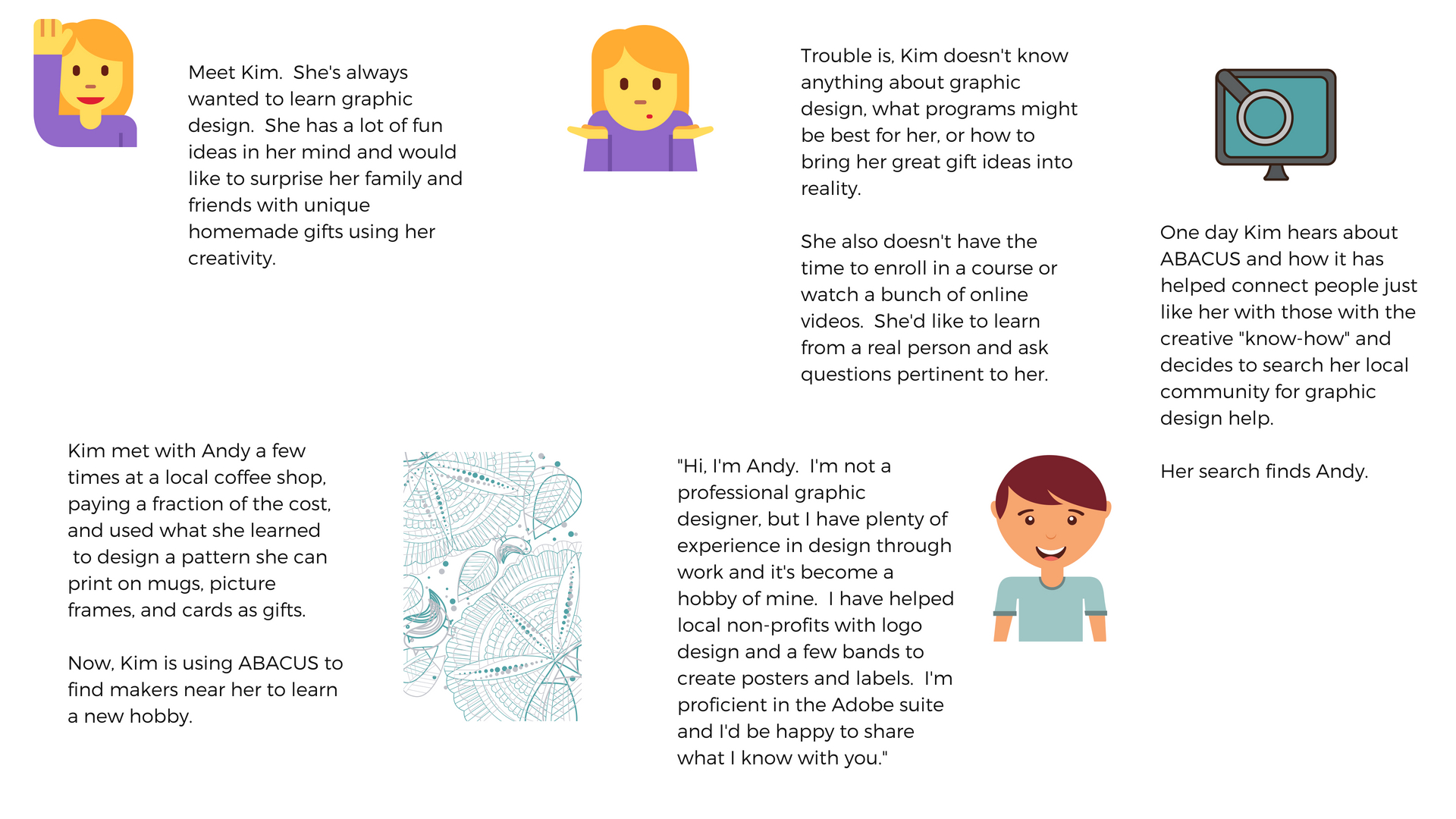 Video tutorials
From signing up to posting your first listing to completing a session; these videos will walk you through the process.
---
Don't even wait, let's stay in touch.